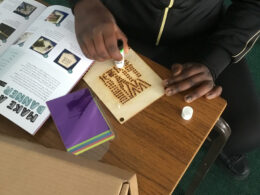 'Spotlight on a Street' is a bi-annual week-long celebration of the heritage of a chosen street within the JQTH area. For the May 2020 event, the planned focus was on Regent Place and it presented an exciting opportunity for students from local schools to display their work along the street. Businesses and buildings had agreed to give over their facades to temporary displays for a fortnight, and we were excited about transforming the street into an open air gallery! Regent Place itself is not short on providing creative inspiration – the Squirrel Works was an electroplating and silverware factory, with its hallmark being the iconic squirrel; the street had been home to a thriving chain-making industry, as well as a printing warehouse and a few beautiful domestic cottages dating from the early 1880s when the area was far more residential in character.
Planning
Project planning started towards the end of 2019 with three local artists –  Tina Francis, Kirsty Hillyer and Deborette Clarke. They devised a series of sessions which would be delivered to local students who attended the Old Fire Station Nursery, Brookfields Primary School and the Jewellery Quarter and Central Academies. The session plans focused on making and creating artwork to be displayed on Regent Place. Sessions had learning outcomes for students which included the development of skills, learning something new and feeling more proud of your local area.
When the Covid 19 lockdown was implemented in March, much of the planning had already been done but the artists were in a situation where they could no longer deliver their sessions in a school setting as planned. It was felt that we could still offer something to the students, but it was important to keep the quality of materials high, and the development of skills and creativity at the heart of the offer. We were also aware that plentiful access to the internet is not available to everyone, so this project needed to be self-sufficient and any digital resources should be an extension, not a requirement to participate.
We already knew data poverty might be an issue for families attempting to work from home, teach their children and have online access for multiple key stage family members. We knew access to resources would be an issue for the students we would have worked with, and so creating a kit that reflected our original plans, our own art forms and could be achieved at home, on budget and provide all the tools was a big ask and one we managed as a team
– Kirsty Hillyer
Jewellery Quarter Makes
As a result and after lots of discussion, the JQ Makes Activity Pack was created over the next few weeks during the early part of the lockdown. The idea was to provide all necessary materials and instructions for a range of arts and craft activities, that were all inspired by Regent Place (as the sessions had been). Zoom calls were an essential way of communicating between the team , and shared Google docs became a vital tool as materials were ordered, counted and packed with little room for error! The extra demand at this time for arts and craft materials had an impact too.
The most challenging part was sourcing the components, as lock down accelerated so did the demand for felt tips, clay and more
– Tina Francis
Nevertheless, the materials arrived and a fantastic booklet was designed by Lisa Barrett which contained instructions for craft as well as historical information about Regent Place. Boxes were packed by Tina, Kirsty and Deborette in the Jewellery Quarter before being delivered to schools in June.
I think the overall kit looked great, the booklet was brilliant and so informative. Everybody's contributions made it a brilliant booklet. I would like to think that all of the young people who had a kit where impressed with the quality of the contents
– Deborette Clarke
Arts Award
The Arts Award 'Discover at Home' scheme was developed by Trinity College London, enabling young people to be rewarded for the creative activities they enjoy and a way to inspire their interest  in the arts while they are at home. Arts Connect, the local bridge organisation funded by Arts Council England, partnered with 23 cultural and education settings across the West Midlands to offer young people the opportunity to achieve Discover Arts Award certification. By getting involved in this scheme, 20 students at Brookfields Primary School in were able to achieve their Arts Award Discover through participating in JQ Makes.
Arts Award Discover requires young people to collect evidence in an individual arts log of their experiences of participating in arts activities, researching artists and their work and sharing their arts discoveries. We created an 'Arts Award Map' which was specific to the JQ Makes Activity Pack, so that young people could collect their evidence and log their activities.
On their maps, young people recorded that they 'took part in making a banner', made things with clay and many chose to draw their makes too. They also found out about the three artists who had created the activities in the pack, writing or drawing about what they had discovered. Some chose to learn about Deborette Clarke, inspired by the fact 'she made outfits for her dolls' and that she is an 'art and design teacher'.  Others liked finding out that Kirsty Hillyer 'has a business making jewellery' and that when she was younger she 'wanted to be a DJ'. Tina Francis was noted too, because 'she loves colour, texture and designing'. The young people shared their work – 'I told my sister that I enjoyed drawing and that I learnt how to use clay'. Another said 'I told my parents that JQ Makes is fun and good as it brings out my creative side'.
What we learnt
Looking back, the uncertain situation we found ourselves in in March presented many challenges so we learnt how to offer something in a new context; providing the tools for the students to explore and be creative, rather than a facilitated learning experience as we had originally planned:
It was important to relinquish expectations that the students would follow and engage with everything we had created and recognise that that was ok. What was important was to provide children and young people with the resources and tools to be physically creative, and the prompts to explore and reflect upon their current circumstances
– Kirsty Hillyer
We learnt to work together in new ways, be agile and reactive to changing circumstances:
It's super important to be able to swerve if a situation is totally out of your control. That team work is great, packing the boxes was fun. Those Zooms....... organising everything online was so important, and I cant believe how much conferencing has changed our lives
– Deborette Clarke
Although the team were in regular contact, work had to be divided up and planned more carefully as it wasn't possible to meet up in the same way as before, to share ideas and materials. As a result, the team proceeded with allocated tasks in their own space, which required really good communication and trust amongst everyone:
The biggest learning for me was that of trust. We had to trust each other to contribute and complete our ends of the bargain. We were working in little silos but with the same aim
– Tina Francis
Take Part at Home
Have a go at some of the Jewellery Quarter Makes activities at home using the downloadable instructions. Send us a photo of something you have made and we'll add it to the JQ Charm Bracelet Gallery, alongside work created by local students. You can email us, or share on Twitter and Instagram using hashtags #RegentPlaceJQ and #JQMakes