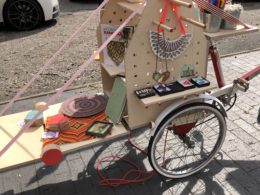 In 2020, which seems such a long time ago, artists Deborette Clarke, Kirsty Hillyer and Tina Francis were commissioned to work on Spotlight on the Street a fantastic initiative by Jewellery Quarter Townscape Heritage which highlights different streets in the Jewellery Quarter and what makes them special.  All of the delivery for 2020 took place in kit form due to the pandemic which whilst really well received was not the same as showing off our streets in person.  So it was a great privilege to be invited back again for 2021 to deliver the project on Albion Street.
Working in partnership with Jewellery Quarter Townscape Heritage under their Quartermasters brand Deborette, Kirsty and Tina began to investigate the street.  Albion Street has such a rich history which highlights the industrial and the residential mix that created the Jewellery Quarter in the first place.  Domestic goods such as teapots, kettles and tableware were all made on the street at some stage.
Albion Street today is still a hive of jewellery making activity, which sits alongside an English Heritage property, a school and nursery and the survivor of all trades, a hairdresser.  There has been a hairdresser on the street since the 1880s!!
"Because we could deliver Spotlight on the Street in person this year and because it has as much residential history as industrial we decided to include Jewellery Quarter residents in the celebration.  Running the on street events to coincide with Birmingham Heritage Week meant that we were also able to shout loudly about the Jewellery Quarter as a whole too!"
Children from the Fire Station Nursery made stained glass windows to hang up during Birmingham Heritage week. The starting point for their designs was the stained glass windows in the Pig and Tail a pub that used to be called The George and Dragon.  Their building as well as being an ex-fire station used to have stables and so the children included fruit and veg in their designs to feed a horse!!  The horse visited them at the nursery during Heritage week.  Of course it was not a living and breathing horse!!  It was the Quartermasters horse, Charcoal!  Children from the nursery actually named the horse and decorated it ready for its on street debut!!  They also fed it tissue paper hay!
Residents were also invited to use their creative muscles in the form of Kettle Crafts, crafts that would take no longer than it takes to boil a kettle.  Why kettles we hear you cry?  Well JQ Academy used to be home to Swan Kettles and teapots were made in JW Evans.  Quartermasters are very much about the history of now and residents were encouraged to tell their own story by making a zine, a ghost sign and a horse shoe (we couldn't leave out a horse activity for adults!).  Craft kits were provided  including an edition of Trike Times, a Quartermasters publication that gave background to the street, famous residents and access to an online tour of significant buildings.
Residents came back to the street during Birmingham Heritage Week to return their makes and learn more about the street.  The natural meeting point was on Dayus Square, only the second square to be named after a woman in Birmingham.  Kathleen Dayus a local hero lived and worked in the Jewellery Quarter and wrote several books about the area.  Talking of local heroes Quartermasters wanted to celebrate the life of Marie Haddleton another important woman of the Jewellery Quarter, publisher of the Hockley Flyer and always a true supporter of the area.  Haddle is the latest member of the Quartermaster team, a Pashley Trike converted by local makers The Dual Works to become a travelling museum, selling space, talking point and regular Jewellery Quarter icon! But why is a trike important to Albion Street? Hudson Bicycle Co were once in the Jewellery Quarter and invented tangential spokes which have kept bike wheels turning for over a century!
Working in partnership with JQTH has meant that we have been able to ensure that Spotlight on the Street has lasted a lot longer this year and enabled us to include our own sense of maker magic!! With Kettle Crafts, personal heroes and craft activities being part of the project delivery to JQ Academy who will feature in Quartermasters next blog.  In the meantime take a look at their website Albion Street — QTRMSTRS to find out more about the street.