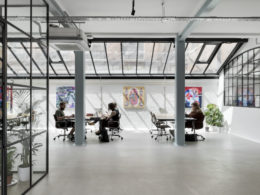 Photo Tom Bird @bytombird
We're delighted to report that one of our grant funded projects, The Jointworks on Albion Street, has completed its transformation from a vacant former jewellery factory into a high spec co-working and events space.
Built in 1884, jewellery was manufactured on site until 2009 when it was used as offices until becoming vacant in 2018. A fire in the property in the 1930s led to the workshops at the rear being rebuilt.
The current owners could see the huge potential this building offered as a co-working space for independent business and appointed conservation accredited architects PCPT and 2G Design and Build to deliver their vision.
A year long restoration has seen sympathetic repairs being undertaken to this Grade II listed building. Works have included repairs to the original cast iron windows, reinstatement of traditional slate roof tiles, restoration of the Victorian tiled floor, repairs to the original panelling, reinstatement of details such as cornicing. New technology has been installed to meet the needs of the modern user, and, where possible, historic details have been retained and highlighted to ensure the history of the building is still evident.
Bringing vacant floorspace back into use is a key aim of the JQTH project and we are pleased to see creative businesses such as Substrakt, Birmingham Design and Method in Motion already occupying the space.
The original layout and features provided practical and inspiring spaces. This project shows how a historic building can be successfully reimagined for today's needs.