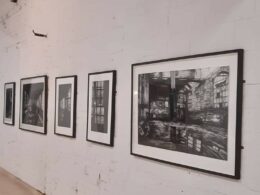 Image: Jemma Gunning's prints on view at The Hive
For her commission Jemma visited the two empty buildings to record their transient states, capturing their fading heritage. She found traces of their former lives as factories; they are buildings which lie at the heart of what was once a thriving industrial centre.  The use of intaglio and mono-printing processes resonate with the decaying structures she has recorded, preserving memories and documenting these extraordinary spaces.
Unity Works
This large factory built around 1866 for Henry Jenkins and Sons who were die sinkers and tool makers. The building featured offices and warehouses at the front, wide workshop space to the rear and a cart entrance at the southern end leading to a courtyard. During the First World War, the factory moved over to munitions production and made rifles for the Birmingham Small Arms company.
The building has been vacant for many years, and there are now plans for it to become a residential development.
Alabaster & Wilson
A prestigious jewellery company that specialised in manufacturing all types of jewellery and particularly brooches, co-founded in 1887 by Arthur Alabaster & Thomas Wilson. Based at 9 – 11 Legge Lane for almost 130 years, the company closed in 2018. The Grade II* listed buiding retains almost all of its original features and is an exceptionally well preserved example of a purpose-built jewellery manufactory.