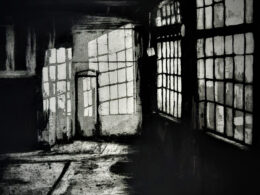 Image: 'Unity Works' etching by Jemma Gunning
We caught up with Jemma, and asked her about her thoughts on the Jewellery Quarter as well as her creative practice and the process of creating the prints for The Fading City exhibition.
How did you get into creating prints of historic architecture?
I have always had a fascination with cities; the structures are continuously changing and evolving, meaning each visit is visually new and stimulating. I started drawing abandoned buildings which clearly have an historic story when I moved to Bristol in 2016. I became obsessed with a decaying castle like structure along the river that evoked a feeling of curiosity. I was enchanted by the remnants of the past: the crumbling bricks, the rickety window sockets, rotting facades and the overall fragility of the ruin. At the time I had no idea what I was drawing until I carried out a residency in the Bristol Records Office. From archival research I discovered that the fragments I was recording through drawing and etchings belonged to the former New Gaol, built in the 19th century. Ever since then I have been exploring cities and landscapes for decaying architectural buildings that need documenting before our history and heritage disappear before our eyes.
What were your thoughts about the Jewellery Quarter when you visited?
I'll be honest, when I was first invited to take part in the project, I was a bit sceptical. I hadn't previously heard great things about Birmingham, but I went with an open mind. I have to say my first impressions were of a surprise. The buildings are so unique and consciously built for the jewellers in mind. The big windows, that let in the optimum light for makers, the attention to details for no real reason just because it looks beautiful are both examples of wonderful Victorian industrial building. When Kate took me on a tour of the JQ I felt like a kid in a sweetie shop. Visually overloaded with characterful buildings that are falling into disrepair. Old signs here, rusty pipes there, boarded up windows in abundance, I felt this overwhelming feeling that someone needs to record these buildings before they drift into ruins. Luckily that's where my practice falls into play.
Why did you focus on Alabaster & Wilson and Unity Works for The Fading City exhibition?
It's rare to see modern buildings that contain such charm as the old ones in the JQ. Charm is the exact reason why I chose Alabaster & Wilson and Unity works to respond to. Both buildings were built for different purposes and have unique features. Together they are at points in their lives where they are about to be repurposed and turned into residential properties. Capturing their present state and the main purpose of the buildings, I felt was increasingly important before developers move in and remove signs of its past life. It has been wonderful to meet craftspeople who used to work in the workshops to hear oral histories. Documenting these forms to preserve such memories contributes towards keeping recollections alive.
Can you tell us about the process of creating the prints for the exhibition?
I decided to use two different methods of printmaking for each building to evoke different feelings for the viewer. I used mono-printing to capture the transient sensation of Alabaster & Wilson. Mono-printing is a planographic process, meaning the matrix doesn't get altered in depth like an etching that belongs to the intaglio family. Seeing the exhibition space, the work would be showcased in, instilled the need to work on a large scale. I started off my producing hundreds of mono-prints exploring light to resonate with the functionality of the building. Most of these ended up in the bin! Mono-printing allows for expressive and immediate results. I begin with inking up a substrate (usually sheets of aluminium) covering the whole surface with a thin layer of black oil-based ink. I then use rags, spatulas, paintbrushes to remove areas, revealing the whites and making the image come to life. The few which didn't end up in the trash and captured emotive notions, got scaled up and more prints were produced. With the silks, I am not sure what possessed me to make them 3.5m long! This was a challenge. I had to hire Spike Print Studio in Bristol to allow me to make them and use their giant Tofko press. I wished I had filmed myself during the process as looking back now it would make a pretty funny film. There were moments I had silk draped over my head, ink all over my arms and face, as I attempted to line up the plates!
For Unity Works I decided to make a series of etching, again upscaling to the usual size I work in. I use copper which is coated in a layer of wax which is an acid resist. I draw through the ground as it's formally known as, with a needle creating a positive drawn mark. The plate is then submerged in ferric chloride acid which bites away the metal creating incised marks which will hold ink. The plates go in and out of the acid bath anywhere up to 10 times. I used etching as a form of documentation as it to resonates with the buildings current state. For etching I am enforcing decay by biting the copper in acid, echoing the decaying surfaces of Unity Works. Etching is a slow and time-consuming process, allowing for reflection which is why I love it. After I have etched the plate, I use an etching press which transfers the image on to paper.
What's your next project?
I am continuing my research into industrial decline. Last year I began recording coal and tin mines in Wales and Cornwall. I'm planning another trip in April to gather more drawing resources.
See Jemma's work along with prints by Tracey Thorne, as part of The Fading City exhibition at The Hive on until Saturday 14th March.