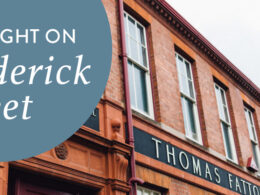 Join us for a week of activities which highlight the heritage of this special street which runs through the heart of the Jewellery Quarter. With grand houses, small workshops, huge Victorian pen factories and Greek Revival influences –  Frederick Street really does have it all!
Throughout the week we'll be sharing new research about buildings on Frederick Street on our Research page as well as delivering an exciting programme of events which uncover the history of the street and offer the opportunity to engage with its heritage.
Buildings Research
Find out more about the history of buildings on Frederick Street and in the Jewellery Quarter Townscape Heritage area, carried out by our fabulous JQ Heritage Squad volunteers!