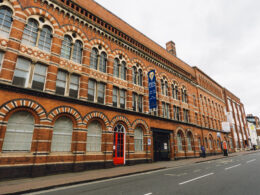 Find out more about two exciting restoration projects happening in the Jewellery Quarter. Join us for a behind-the-scenes glimpse of what's already happened and what's to come! Meet the architects, conservation builders and project teams, see drawings and plans and ask the experts.
The Jewellery Quarter Townscape Heritage (JQTH) project is a three-year scheme funded by the National Lottery Heritage Fund and other partners. It aims to regenerate an area within the Jewellery Quarter's 'industrial middle' through the repair and restoration of historic buildings and the delivery of events and activities for all. The Argent Centre on Frederick Street is one of the first major buildings to receive funding, with works starting in early 2020.
The £2.3 million restoration of Key Hill and Warstone Lane cemeteries is funded through a partnership between Birmingham City Council, The National Lottery Heritage Fund and the Jewellery Quarter Development Trust. The works will include extensive restoration work undertaken to the catacombs, major boundaries and surrounding footpaths. Alongside the restoration work, there will also be an extensive programme of events celebrating the heritage, natural environment and community value of the cemeteries.
The event location is wheelchair accessible and there is a disabled toilet.