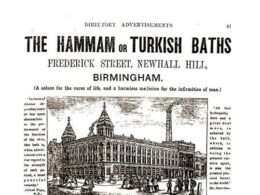 The Albert Works on Frederick Street, now the Argent Centre, was built in 1862-3 as a pen factory for Mr W E Wiley. Uniquely, the building also housed Turkish Baths which utilised the steam from the factory's engine. Join Dr Charlotte Jones for a fascinating talk about the revival of Turkish baths in mid-Victorian Britain, their origins, place in society and in medical practices, the architecture and technology behind them. Discussing the subject of her PhD, Charlotte will explore the development of Turkish Baths throughout Britain, as well as the baths on Frederick Street.
The talk will take place at The Senator Group showroom, 14 – 15 Frederick Street which lies opposite the Argent Centre and is also a former industrial building. Light refreshments will be provided.
The room in which the talk will take place is wheelchair accessible.