By Syeda, research volunteer
There is little census data of what 172 Warstone Lane was like before the Rose Villa Tavern was built but in 1882 William J Franklin, a green-grocer, lived there. The building became the Rose Villa Tavern in 1896 when it was occupied by Albert Clarence Taylor. In 1919, the building was changed to become the one that is still standing there today. Due to its location in the Jewellery Quarter, many of the family of the owners had jobs in jewellery-making. From the census data it can be see that the owners of the Rose Villa tavern also lived there at the site, or around the area.
The building was built in 1919 at a cost of £15,000 for Mitchells & Butlers by architects Wood and Kendricks. Mitchells & Butlers Brewery was formed by the merger of two breweries in 1898.
Building Timeline
1882
Former Rose Villa Tavern building was built, and occupied by William Tucker, a greengrocer
1903
Licensee is John Reeve Palmer. Also working there is his wife Annie Elizabeth Palmer, Lucy Emily Griffin and William Charles Shaw as bar assistants.
1912
Publican Arthur Walters lives here with wife Annie, and children May, Arthur, Fredrick and Horace. There is also a domestic servant called Mathe Priest.
1919
Built in 1919 at a cost of £15,000 for Mitchells & Butlers by architects Wood and Kendricks
1921
Licensee is Fredrick Slingsby Gales as listed in trade directory
1932
Licensee is Tom Webster as listed in trade directory
1936
Licensee is George Barrell, Warwick Ramsay as listed in trade directory
1939
Licensee is William Bates as listed in trade directory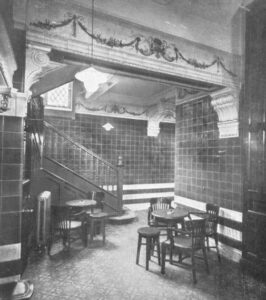 Rose Villa Tavern c1919 - 1930 (Image courtesy of: Local Studies and History Department, birminghamimages.org.uk)