In Spring 2021, the Jewellery Quarter Townscape Heritage project invited three young volunteers to research and co-curate a film.
The aim of the project was to explore the legacies of Joseph Chamberlain, and Warrulan, an Aboriginal Australian who came to Birmingham in 1844. Chamberlain was Mayor of Birmingham from 1873-1876. Warrulan, was brought to England by a British colonial administrator as an adolescent in 1844. He received an apprenticeship with a saddle maker and then worked for Middlemore Saddles. Both men are buried in Jewellery Quarter cemeteries. Rahma Mohamed, Salim Dabo, and Chelsea Mills worked with filmmaker Scott Johnston to produce the film.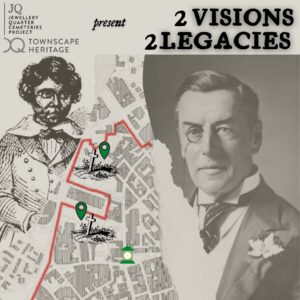 The project used the reinstatement of the Chamberlain Clock, following conservation as it's starting point. The young people's research considered the value of the clock to the history of the Jewellery Quarter and Birmingham. As Chelsea said, "the goal is to get the public to engage with unbiased historical narratives about Warrulan and the Chamberlain Clock in innovative and memorable ways". After the film was made, the volunteers researched and produced an interpretation panel for the clock which can be found near the clock, in Golden Square (where Vyse St meets Warstone Lane).
Find out more and watch the film https://th.jewelleryquarter.net/2visions2legacies/