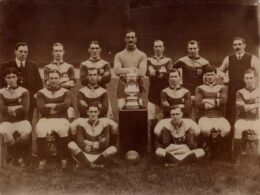 Image: The Bradford City team proudly show off the FA Cup won in 1911 after the final against Newcastle United, designed by William Norman. Bradford Telegraph and Argus, 24 April 2013
Early life and career
William Norman was born on 7th March 1872 in Newcastle-upon-Tyne. His parents were Henry Mirehouse Norman and Mary Frances Hall. In 1881 William was living in Gosforth Street, All Saints, Newcastle. The census records show that his family lived above a shop. His father was a tailor, as was his brother-in-law, Joseph. By 1891 William had moved with his parents to Allison Street, Byker, Newcastle, and his occupation was listed as engraver's apprentice. This was the beginning of his long and illustrious career in the trade. His father and grandfather were both tailors, so perhaps close, detailed and intricate work was routine to William. Research has also told us of William's 5th great-grandfather, Joseph Calvert, was one of the Wigton clock makers. Joseph designed and made an 8-day movement clock. Thomas Coxon (1811-1892) was a clockmaker and silversmith in Nottingham. He was Henry Mirehouse and Catherine Norman's uncle, so was William's great-uncle. William seems to be carrying on the family tradition, even though the talent seems to skip generations at times. Maybe lack of opportunity would explain this, as a long apprenticeship needed to be served.
On 1st January William married Dorothy Marshall in St Philip's church, High Elswick. Dorothy was born 10th April 1874 in High Elswick, Newcastle upon Tyne. She was working as a knitting machinist at the time. William and Dorothy's first child, Emma, was born 23 October of the same year, followed by Dorothy on 17th April 1899. Gladys Mary was born in June 1901, so that gives us an indication of when the family moved on. The 1901 census shows them living in Bean Street, Bootham, York. William was a silver and gold engraver, so sometime between 1899 and 1901, having served his time presumably, he moved to York and established himself as a fully-fledged engraver. We don't know if he worked in a factory or in a jeweller's shop.
Life in Bradford
By 1903, William was living in Bradford, as we know that his daughter Hilda was born there in 1903. Why did William move to Bradford? Work undoubtedly led him to Fattorini and Sons. In 1904, Fattorini and Sons were primarily jewellers and the majority of their processing work was sub-contacted to various factories, mostly in Birmingham. The history of Fattorini and Sons seems immensely complicated to the layman, with the acquisition and sale of several firms over the years they were operational, not to mention the rivalry with the other branch of the family firm, Thomas Fattorini.
William and Dorothy had 9 children in total: James was born in 1905 but sadly died shortly afterward. Jane, 21st June 1906, Helene May (known as Nellie) October 1908 and Phyllis, July 8th 1911.
1910 was a momentous year in the life of William Norman: it was the year which saw his design for Fattorini and Sons, Bradford win the national competition for the new FA Cup. William's design is still used to this day, though there have been 3 versions of the cup produced due to wear and tear.
In 1911 William and his growing family lived at 39, Oxford Street, Undercliffe in Bradford. This house, still there today, is a Victorian Terrace and had 5 rooms.
Dorothy died in 1920 after a fall at the backyard in the family home. She is buried in Undercliffe cemetery. The family lived at 86 Undercliffe Lane at this time.
William re-married 29th July 1922 in Bradford Registry Office. His second wife was Eliza Firth, born 30th September 1895 and they had one daughter, Margaret, on 6th May 1923. Eliza was 27 when they married, William was 50.
Bradford City were the appropriate first winners of the current FA Cup design. More modern trophies have cleaner designs, but for me they lose a little something compared with those Victorian and Edwardian designs
– Alexander Jackson, National Football Museum
The move to Birmingham
In 1927 William, his wife Eliza, their daughter Margaret, 4, and Dorothy's daughters Nellie, 19 and Phyllis, 16, moved to Birmingham: they lived in 59, Frances Road, Kings Norton. William had been appointed chief designer at Fattorini and Sons' factory. This was the old Joseph Moore factory in 13, Pitsford Street, which Fattorini and Sons had purchased in 1915. Fattorini and Sons moved to the Barr Street premises in 1932 but retained the name Joseph Moore. The factory did not take the name of Fattorini and Sons until 1958, though products of the Joseph Moore factory bore the signatures of Fattorini and Sons.
William subsequently lived in Albert Road and finally 80 Stechford Lane. They may also have lived in Frederick Road. William died 17th December 1954 and was buried on 20th December at St Mary and St Margaret in Castle Bromwich. His will declared that he left £616 6s 7d to his widow Eliza. He had continued to work at Fattorini and Sons until 1952, when he retired at the age of 80.
William was a quiet, softly spoken man who took pride in his work. Joe Fattorini, owner of Fattorini and Sons, talking about William  in 1981, said; "in my mind's eye I can see him at his bench….with a leather apron to collect all the gold dust and chips with which he worked. He was an exceptional craftsman and artist; they don't exist like that today". His granddaughter Marion remembers his soft Geordie accent, his pipe and the old- fashioned recliner chair covered in corduroy where he always sat.
A skilled artist and maker
In 1947, William was involved in re-creating the Bradford Mayoral chain which had been stolen from the Mayor's car. Bradford citizens donated whatever gold they could spare, which Fattorini and Sons collected and William was responsible in re-fashioning the chain from the donated gold items in the Birmingham factory.
William was also an accomplished water colour, and pen and ink artist. He created black and white drawings of Dickens scenes for his family. He also designed and made Christmas cards to supplement the family income.
In the press
In April, 1948, the Birmingham Gazette published an article entitled 'The Story of 3 Cups – and 3 Midland Men'.  William is described as 'quiet, soft-spoken and retiring, in fact all that one would expect a craftsman of his trade to be'. The article mentions that Fattorini and Sons made the gold medals for the 1948 cup final at their Bradford Works in Barr Street. It goes on to say that William has been with the firm for 40 years, meaning that he joined them in 1908. He is described as the head designer, "fashioning anything from medals to masonic clothing and the finished products go all over the world."
William also appeared in BBC radio programmes, talking about his life and work in the Jewellery Quarter.