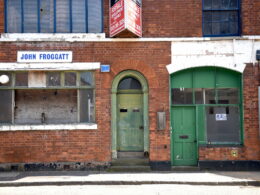 Photo of 51 Vittoria Street © Anne-Marie Hayes
Both projects are great examples of showing the rapid evolution of the Jewellery Quarter from a residential area into a place of manufacturing by the late 19th century. This change of use can be clearly seen in 51-53 Vittoria Street.  Originally a pair of three-storey townhouses dating from around 1830, they were converted to industrial use by 1875.  The trade directory from 1939 shows that the property was occupied by Mrs Mary Jones, a shopkeeper which probably explains the large windows to the street which would have been a later addition.
The house fronting onto Regent Place retains many original details including the semi-circular headed doorway, panelled door and sash windows.  On the Vittoria Street elevation, all but one of the sash windows were widened to form workshop windows in the early 20th century. The grant aided works will use traditional techniques and materials to repair the exterior of these buildings, restoring the original architectural details and making the buildings sound, wind and watertight through repairs to the brickwork and roofs.
22-24 Vittoria Street was originally part of a group of six back to back houses and probably dates from the late 1830s or early 1840s. The grant works will aim to reverse some of the unsympathetic alterations that have taken place and will reinstate a sash window at the ground floor which will revert the front elevation back to the buildings original design.
We are looking forward to working with PCPT Architects and Messenger BCR on these projects. Works are anticipated to be finished by Christmas 2020.