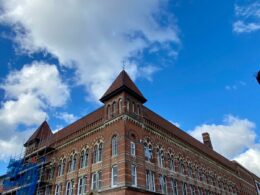 Online Talk: The Argent Centre Revealed
Oliver Architecture guide us through the design process, and the rationale behind the fabulous new turrets. Midland Conservation tell us about what it was like working on site, and the kinds of skills and experience they put into practice during this project. The Argent Centre restoration has been part funded by the JQTH grants scheme, which aims to regenerate an area of the Jewellery Quarter through repair and restoration of historic properties and public realm.
Further information
Find out more about the project to restore the Argent Centre.