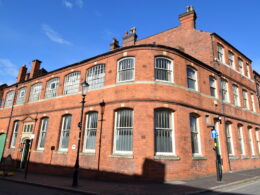 Co-founded in 1887 by Arthur Alabaster and Thomas Wilson, Alabaster & Wilson was a prestigious jewellery company, based in a factory at 9-11 Legge Lane, that specialised in manufacturing all types of jewellery and particularly 'sporting' jewellery and brooches.
Wendy Alabaster first joined her family's jewellery business as a junior clerk, eventually progressing to become director of Alabaster & Wilson in 1985. Unlike her brother Stephen, who spent time in both the office and workshop, Wendy mainly worked in in the office at the company. Nevertheless, she had undertaken Gemmology and Diamond courses at Birmingham School of Jewellery and witnessed many 'spectacular' pieces of jewellery during her time at the business.  In her interview with Jewellery Quarter Townscape Heritage, Wendy recalls the sense of community present in the office; working for the formidable Bernard Howell, she describes the way each worker 'chipped in' and helped each other. In addition to working collectively, each worker also had particular skills and crafted jewellery in unique ways. The setters, chasers, lappers and signet-makers that resided in the workshop all played integral roles in the creation of distinctive, high-quality jewellery. Patrick Lambert, for example, was principally a polisher but was able to turn his hand to other manufacturing skills including goldsmithing and enamelling.  Wendy particularly notes the chasers' skill in the 'chasing' process, in which they would add texture to gold animal brooches to represent their fur.
The success of Alabaster & Wilson as an integral part of Birmingham's burgeoning jewellery trade is noted by Wendy's brother Stephen, who joined the family business in 1975. In his interview with Jewellery Quarter Townscape Heritage, Stephen recalls the way in which Alabaster & Wilson became the principal brooch-makers in Birmingham. Despite a growing surge in imported jewellery throughout the 20th century, the business continued to survive due to its dedication to producing handmade pieces of exceptional quality. Masters of their trade, Alabaster & Wilson produced several special commissions for presentation to the royal family, as well as undertaking repair work on lavish and exquisite pieces of jewellery like tiaras. Wendy fondly remembers pieces being crafted to mark the marriage of Prince Charles and Diana, with a brooch in racing colours made to commemorate the Queen's 90th birthday being particularly memorable. As Stephen Alabaster claims, the jewellery company's endurance was also due to its close links to education; the company had close links with Birmingham City University and the Gemmological Association.
Stephen and Wendy decided to retire and close the business in December 2017. Nonetheless, its impact on the Jewellery Quarter and its former workers is enduring. Reflecting on her time at the business, Wendy claims she misses the time spent working at such a prestigious company. As well as working alongside her father and brothers, Wendy formed enduring friendships with other members of the workforce and feels a strong emotional connection to the company to this day. She notes how several workers, such as Rod Mossop, spent their entire lives working at the company; Mossop, who eventually became senior brooch maker, began working at the company when he left school and remained until he retired at the age of 65. When reflecting on his time at the company, Mossop describes Alabaster & Wilson as a 'great place to be'. According to Wendy, workers remained at the company due to their prestigious reputation and because of the friendliness of other workers. Wendy made lasting friendships at the company and describes it as 'like being part of a family'.
Still: Stories from the Jewellery Quarter
See Wendy's portrait and hear her story at Iron House Gallery from 26 October - 10 November 2019.