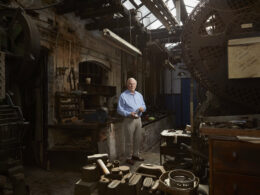 Above: Portrait of Tony Evans, by Andy Pilsbury
From 26th October – 10th November 2019, portraits and oral histories from the JQ People's Archive were displayed at Iron House Gallery as part of the exhibition Still: Stories from the Jewellery Quarter. Over 400 visitors enjoyed visiting the exhibition, which included contemporary portraits taken by Andy Pilsbury and Inès Elsa Dalal. Many attended the events at the gallery including a talk about the development of the Jewellery Quarter by Carl Chinn and a jewellery making workshop from local jeweller Naomi Clarke.
Photographs by London-based American freelance documentary photographer Janine Wiedel were also part of the exhibition. Having previously photographed the Berkley Riots and the Black Panther Movement in California in the late 1960s, Wiedel was awarded the Midlands Arts Bursary in 1977 and spent two years documenting the industries of the area. Her work in the Jewellery Quarter documents the craftspeople and workshops at Turner and Simpson silversmiths in 1977. In 1978, ATV television made a documentary "Camera in the Streets" which showed Janine's work in progress. Her other long-term projects, such as those on Irish Travellers and most recently the Refugee Camps in Northern France, have become major studies, books and exhibitions.
'Still: Stories from the Jewellery Quarter' received great feedback, with visitors describing it as 'wonderful' and 'fantastic'. In addition to providing a 'trip down memory lane' for those with happy memories of the area, it invited new visitors to learn about the heritage of the Jewellery Quarter through the 'beautiful stories' of the people working within it. The events held were thoroughly enjoyed by participants and many praised Naomi Clarke's workshop for enabling them 'to be creative' and 'meet new people'.
If you couldn't make it to Iron House, you can explore the exhibition through this film footage created by Hot Source Creative.
Still: Stories from the Jewellery Quarter
People's Archive page
Explore the portraits and oral history interviews from Still: Stories from the Jewellery Quarter exhibition.