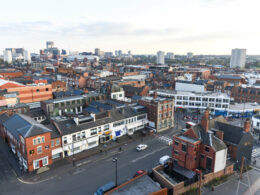 Roofing problems can be prevented with regular inspections and routine maintenance. Loose or missing slates and tiles may mean that water is getting onto roof timbers which are expensive to repair. Neglect of a faulty roof will quickly lead to damage to other parts of the building.
What to look for:
Missing/loose slates/tiles
Large areas of moss or vegetation which can cause slates to deteriorate and block gutters
Gaps or missing mortar between the ridge and hip tiles
Holes or splits in flashing or on flat roofs
Colour of the lead. It should be dark grey, lighter streaks may indicate areas of lead that has eroded.  If the lead is very light in colour it may be approaching the end of its life
What to do:
Have missing tiles or slates reinstated before damage occurs to roof timbers or ceilings
Re-use existing sound slates. Any replacement slates should be of matching colour, size and thickness.  Substitute materials such as artificial slates are not a match for natural materials and should be avoided on historic buildings
Replace missing ridge and hip tiles in the same shape and colour as the existing
Remove moss
A specialist local roofing contractor is essential
When carrying out an inspection it is important to stay safe. Carry out an initial assessment and decide whether it is necessary to arrange for specialists to carry out a more detailed investigation, particularly if maintenance works require working at height.