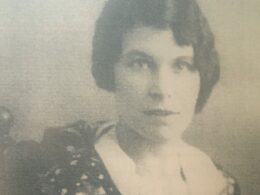 In 1937 it was almost unheard of for a woman to run her own business, let alone a widow who had had five children (sadly one had been killed in an accident 10 years earlier, the other four had been handed over to Dr Barnardo's in Moseley).
It had been 6 years earlier that Kathleen had become a widow and given her children over to the care of Barnardo's, she vowed that day that she would work every minute she could and save as much as possible to be able to afford a place that was suitable to bring her children back to. Despite this vow, she simply didn't earn enough working in numerous jobs including press work. It was in her later trade of enamelling that Kathleen was finally able to break free of the poverty that had blighted most of her life.
She had over the years learnt every aspect of the enamelling trade and having saved long and hard, was able to eventually start her own business at 90 Spencer St. After buying the materials she needed to start from Harry Smiths of Key Hill, she opened in 1937 getting work enamelling small badges and two years later she was successful enough to apply for the return of her children.
Sadly, this coincided with the start of the Second World War and her work dried up as the demand for luxury items such as badges and brooches greatly reduced. However, what was needed now was enamelled officers' pips, Auxiliary fire service badges, WVS badges and other enamelled items to help the war effort and thankfully Kathleen was able to secure enough orders for these items to see her through the war.
In April 1941 saw the worst air raids Birmingham was to suffer – a direct hit to Camden Drive killed 20 people including Kathleen's mother and sister. A bomb crashed through the roof of her workshop and thankfully it failed to explode, the only damage done was the hole in the roof.
Kathleen Dayus died in January 2003, days before her 100th birthday.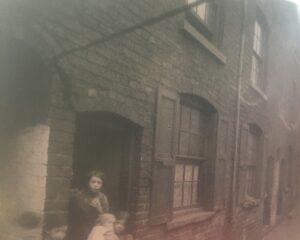 Number 1 Court, Camden Drive which was very similar to Number 4 Court where Kathleen's family lived (Photo from The Girl From Hockley, Kathleen Dayus)
This article was written using autobiographical information from the following books written by Kathleen Dayus: Her People, Where There's Life, All My Days and The Best of Times