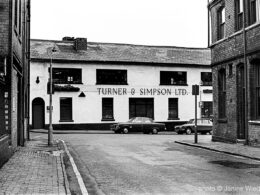 Image: Photograph of Turner and Simpson by Janine Wiedel, located at the top of Legge Lane taken in 1977.
Janine's work in the Jewellery Quarter documents the craftspeople and workshops at Turner and Simpson silversmiths in 1977. The company was based on Legge Lane and ceased trading just two years after these photos were taken. Janine's work was exhibited alongside Andy Pisbury and Inès Elsa Dalal as part of the exhibition 'Still: Stories from the Jewellery Quarter' which was held at Iron House Gallery in 2019.
When I took these photographs in 1977, Birmingham's Jewellery Quarter was Britain's major centre for the manufacture of gold and silver goods, tracing its origins to the beginning of the 19th century. The area was made up of many small firms, packed together within a quarter square mile. Behind the small family firms and Dickensian atmosphere however, were high powered businesses distributing throughout the world.
– Janine Wiedel
Turner and Simpson was a typical example of the cottage industries. On entering the building you went up a creaking wooden staircase, which led up to a reception desk with a young girl sealing envelopes to be sent around the world. Moving along narrow passageways and up and down squeaking steps you passed door after door, each opening onto separate, self-contained worlds. Some rooms contained seven or eight people leaning over fine, detailed work on cluttered workbenches, each butted up against the outside wall to catch every ray of light passing through the windows. Other rooms were small and dark with no windows, but had a similar atmosphere: a feeling of ownership. The rooms belonged to the workers, their tools and their machinery. The ceiling rafters and wooden floorboards took one back to the makeshift workshops of the previous century. The teapots, kettles, individualised brushes and tools all created a feeling of place where work and companionship were one.
– Janine Wiedel