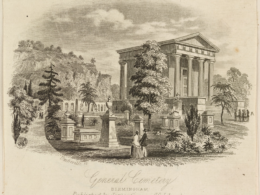 Image: Former chapel at the General Cemetery, now Key Hill Cemetery
In the Post Office Directory of 1845, the occupant of 42 Frederick Street is listed as Rev. Peter Sibree, chaplain to the General Cemetery (which is now called Key Hill Cemetery). This cemetery served Birmingham's dissenting Christians (not members of the Church of England), and the chapel where Rev. Sibree performed his services looked very like a Greek Temple. This neoclassical style was very popular for non-conformist chapels at the time, with clean and simple lines and very little decoration (very different to the highly ornate Gothic churches favoured by Anglicans).
Sibree was new to the area, presumably having moved to be closer to work, because during the 1841 census he was living at 44 Lichfield Road in the Parish of Aston. He is still resident in Frederick Street in the 1856 Post Office Directory, but by 1860 he has moved and the occupant of 42 was listed in the Post Office Directory as Mr Moses Misas. It appears that he had moved to Park Road, Handsworth where he was listed as living in a directory from 1862.
In addition to his role as chaplain at the non-conformist cemetery and taking funeral services, he also had his own independent chapel on Legge Street (not to be confused with Legge Lane in the Jewllery Quarter. Legge Street is near what is now the Aston University campus), and his services are listed in the 1854 Shadlers Directory along with other 'Surrogates for Granting Marriage Licenses'. The services in Legge Street on Sundays were at 10 ½am and 6 ½pm. Tuesdays and Wednesdays, 7 ½pm.
A listing in a Birmingham directory of 1845 contains a description of the chapel 'The Independent Chapel, Legge Street, a neat small stuccoed edifice, to accommodate 160 hearers, originally built by the Primitive Methodists, but has been occupied by the Independents about 20 years. Rev. Peter Sibree, Pastor.'
According to historian Chris Upton, Sibree's chapel was one of those founded by The Congregational Town Mission in Carrs Lane, who appointed three missionary agents in 1837, each tasked with bringing the word of God to residents of an area of the city covering around 20 streets. They kept a journal of their daily rounds, which were then submitted to the church elders for approval. (https://www.business-live.co.uk/retail-consumer/urban-mission-19th-century-birmingham-3919924)
Rev. Sibree was well respected as a minister, and at their annual meeting in 1847 the General Cemetery Company directors 'spoke highly of the manner in which the duties of chaplain had been performed by Rev. P Sibree' (Birmingham Journal Saturday 28 August 1847).
Key Hill was not the only cemetery where Rev. Sibree acted as chaplain. In 1863 he became the chaplain of the unconsecrated section of the new council run Borough Cemetery (now called Witton Cemetery) for a period of one year (Birmingham Journal Saturday 10th January 1863). Unfortunately, he didn't live to complete this term, passing away on 16th October 1863, aged 66. Rev. Sibree was buried at Key Hill cemetery in Section K in a private family grave.
In the Council report following his death 'Mr Brinsley urged the council to grant Mrs Sibree and her children and her children a gift of money seeing that the amount realised by her late husband from the cemetery was so extremely small. He believed that the disappointment which Mr. Sibree must have naturally felt in receiving so small a sum had contributed to his illness, and consequently to his death.' It seems that in the 6 months since the Borough cemetery had opened the number of burials in the unconsecrated section had been much lower than in the consecrated section (989 in consecrated ground, only 132 in unconsecrated ground). Sadly, although the committee were all but unanimous in supporting this idea, it was against council rules and so 'Alderman Cutler had not the power to give Mrs Sibree anything' (Birmingham Daily Gazette, Wednesday 25 November 1863). However, at the time of his death he was a relatively wealthy man with 'effects under £800' noted in his will (which is about £100,000 in today's money), so we can assume that his family were not left destitute!
He was clearly a figure of local importance because Messrs. J Burton and Son, Photographers, 17 Bennett's Hill were offering 'Life-like Carte de visite portraits' for 1s (Birmingham Daily Gazette 26 October 1863). Sadly, it doesn't appear that any of these portraits have survived.