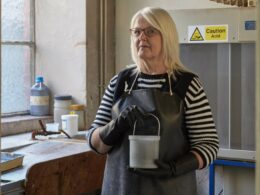 Elaine Wilson, portrait by Andy Pilsbury
Elaine Wilson is one of the enamellers who works at Deakin and Francis on Regent Place, a company known for their cufflinks, signet rings and jewellery. In October and November 2019, Elaine's portrait featured in the exhibition 'Still: Stories from the Jewellery Quarter' and her oral history interview is part of the JQ People's Archive.
Elaine was born in Ladywood, Birmingham and grew up in a big family of eight. Interestingly, all of her siblings went into manufacturing trade making tools, pans and kettles, with her being the only one working as an enameller. Enamelling was not Elaine's dream job, but she was acquainted with the trade since she was young, and things worked out in such way that she was hired by Fattorini & Sons when they were based in Barr Street, Birmingham. Before unravelling Elaine's story, we will explore her trade and what she does.
Process of enamelling
An enameller decorates metal surfaces with colours made from powder glass, which are fused and heated to make them harder. During her oral history interview for the JQ People's Archive, Elaine explains the process of enamelling cufflinks in few steps:
1. We get the silver all ready stamped the stems soldered on. We clean the cufflinks in nitric acid to get rid of any dirt and grease, so we have a nice shiny silver.
2. The enamel comes in block and powder form , we grind it up to make it finer to work with.
3. Next, you apply enamel with a calligraphy pen. We turn it the other way up and use it as a shovel and we just apply it to wherever it needs to be.
4. Afterwards, you need to dry it off with a towel to take the water out. You leave it to completely dry.
5. Then you put them in a kiln and it melts and it infuses onto the silver, and then we just keep applying coats until we built it up to the silver, a bit more. Then we have to file it back down to the silver, so you get a smooth surface. It goes into the kiln one more time.
6. When it is finished you just polish it and then they do whatever they've got to do with it, with the backs. Then they get it polished and assayed.
Elaine's family
Since Elaine was a child, she would visit her aunts who used to do enamelling in their garage, and learn about the craft. She remembers visiting her aunts:
She'd have all these trays of work just sitting there, and you had to be careful because if you knocked them, as it was just powder, she'd have to start all that again. So, you used to have to tread carefully.
– Elaine
Elaine's dad started as a polisher within his own workshop and worked closely with Fattorini's in Barr Street for the entirety of his working life. He encouraged young Elaine to get into enamelling, and because of his contacts with management he found her first job. Elaine's dad felt it was important to teach her the insights of the process and thought that maybe, after getting married, she would be able to work from home (she never did).
As a young girl, she would remember how her dad looked when being in the workshop "he had the gown on and the hat, I can see him now". Later on, her whole family ended up working around the Jewellery Quarter.
Elaine's first job
In 1976 at the age of 16, she started her first job at Fattorini & Sons in Barr Street. When Elaine joined the company, she was taught by many women. One of them was Iris, with her extensive level of experience, she took the young Elaine under her wings and showed her how to work with gold and silver, which was accessible for only few people at the time.
My first job was yellow librarian badges, mainly school badges we were given to do, they were quite repetitive, moved on to car plates after training - Rover, Lotus, Austin Martin, Rolls Royce are just a few. I was later trained to do silver work too, I did mainly nurses badges, and blood donor lapel pins, the work was a bit more involved and far more interesting to do, I enjoyed my time at Fattorini & Sons.
– Elaine
First salary and a new chapter of life
At the beginning of her employment, she got paid £19.60 per week (£0.49 per hour), but as she turned 18, the pay increased to a pound per hour, which gave £40 week, "it was mega-money" she states. As a young woman, she would spend her salary on clothing or going out with her sisters to town on weekends to places like Bogart's Bierkeller or Locarno – those were the highlights of her Friday and Saturday nights. Elaine left the job after four years of working, in order to get married and have two children.
Returning to enamelling
While Elaine decided to put aside her enamelling carer and focus on her family, another opportunity came along to work in school meals provision. This gave her a chance to have more time to be around her kids. She started as a 'veg' lady, preparing and cutting vegetables for meals. After a while, she became a supervisor and stayed in that position for 17 years. Elaine enjoyed working at school, it gave her more time to spend with her children, but as the time passed the job turned out to be physically demanding, stressful and bureaucratic. Her two teenage sons didn't need as much attention anymore, therefore she decided on returning to enamelling, which she already knew and was familiar with.
In 2002 with the support of her family, she got a position at Deakin and Francis where she could work at her own pace, pick up more shifts and work in a calm environment. Elaine also thought as this as a dying trade, she wanted to come back to keep it alive! She adds that "Deakin & Francis is a lovely place to work".
Elaine's role at Deakin & Francis
She mainly works with gold and silver and makes cufflinks and medals. She even helped to create Team GB pins, royal jewellery, as well as presidential American flags. Her favourite piece of work is the pair of bulldog shaped cufflinks, which reminds her of her dog or her son's bulldogs.
Elaine thinks that to be good enameller you need to have an interest in craft and design, good eye for detail, patience, steady hand and resilience as some things do not always go as planned!
Listen to Elaine
Elaine Wilson oral history interview as part of the People's Archive