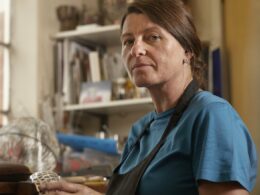 Portrait by Andy Pilsbury
Anna Lorenz is a local artist, who creates jewellery, silver objects and large scale sculptural pieces. Her artwork is described on her website as 'quiet and contemplative, invites the viewer to pause and take a step back from the speed and over-stimulation, of current times'. Sculptures made by Anna are diverse and multi-layered, the effect of a 'thoughtful spontaneity' which harmonize aesthetically with minimalism. Her craft explores space, presence and absence, going beyond the materiality enabling everyone for free interpretations, contemplation and celebration. The workshop on Frederick Street is a place where you can find Anna working as a gold and silversmith, is shared with other silversmiths Andy Macgowan, James Butler, Kevin Grey and the chaser Ray Hassall. Additionally, she is known by her students as a part-time lecturer of  School of Jewellery in Birmingham.
A local artist with several publications to her name, she is internationally recognised through her exhibitions which travelled around the world.  Here are some examples from Europe such as the UK, Germany, Spain, Norway etc., also Asian Fine Arts acknowledges her work in Japan or China, finishing on the USA. It is worth noting that in 2012 Anna was awarded of Recipient of Queen Elizabeth Scholarship. But lets start from beginning….
From Telecom Engineer to Gold and silversmith. Never too late
Anna was born in Bavaria, Germany, into a family of dairy farmers and grew up in a rural community. She lived in a small but idyllic village, where as child she would play with other kids and help with the farm. Starting her education from age 7, she showed interest in maths and physics, which later on led her to become an engineer. After years of training and working for initial apprenticeship with German Telecom, she decided on a career change.  Not knowing which way was the right one, she went on to travel, delaying her A-levels. During her visit to Asia, she was fascinated by Asian tradition in  jewellery, which inspired her to search for an internship in goldsmithing.
I have always been very 'hands-on' and goldsmithing was the perfect direction to go.
– Anna
She wrote a letter to a master goldsmith in Germany, while lying in the hammock in Thailand and after a quick response, she flew back home. Soon Anna learned basics jewellery making from the goldsmith master Joseph Rieger, in the city of Regensburg, creating wedding bands, earrings and many more, but also doing repairs. Looking back to her experience, it not only gave her practical skills but also the theory behind it, as she also attended trade school in Munich.
After 2.5 years of training, she wanted to explore the creative side of goldsmithing and making her own work, while studying the development of ideas and the subject in more depth. When looking for another challenge she found out about the School of Jewellery in Birmingham, which stood out from the rest of the universities. Shortly after, she was accepted and felt overjoyed. Prior to that Anna undertook additional courses such as diamond grading, gemmology and the study of pearls at the Gemmological Institute in Idar-Oberstein.
From her memories from the year 2000, when she arrived in Birmingham, she remembers that trade in the Jewellery Quarter was much more alive than it is now. There were far more gold and silversmiths still practising, as well as associated trades such as polishers, engravers or stone setters. The Jewellery Quarter was not "fancy" itself , you could find a few small cafes but with kind and honest people.
After 3 years of University, a close and continuous relationship with the school resulted in Anna finishing her Master degree in Fine Arts and obtaining Certificate for teaching in Higher Educaction. She became a part-time lecturer and she is delighted that she can support, guide and share her knowledge over the years with students. Here are some of her thoughts:
I love teaching and I wish more home students would take up the subject. It is a wonderful subject to get into, as it allows you to be creative and make it as well. Silversmithing and Jewellery is ongoing and there is always more to learn and I enjoy this aspect very much
– Anna
Her artwork
Anna puts her whole heart in her artwork and she loves what she is doing, staying proactive and constantly searching for new opportunities. She creates geometric, structural and process-based jewellery and craft, being inspired by life and Japanese architect Tadao Ando.
Her journey with exhibiting, receiving commissions and awards began after she graduated from university. Feeling lucky, her work was selected at New Designers and presented in London within the Metal Gallery, which sadly does not exist anymore. During the London exhibition, some of her work was sold out, therefore the need to do more. At Chelsea Craft Fair, Anna's sculptures were selected for the British Craft award in Japan, which allowed her to exhibit there and visit the country.
One of her most impressive achievements is designing the  Commemorative Trophy for Colin Jackson, awarded at the 9th IAFF World Championship in Athletics. The trophy was made by Regent Silversmith, who Anna shares a workshop with. Anna felt that it was quite amazing to see Colin Jackson take her trophy which commemorated his retirement, in this huge stadium.
Once you start exhibiting successfully, it is much easier to get into shows again and it somehow takes on its momentum
– Anna
Key to success
Anna feels that where there's a will, there's a way (most of the time). It is essential to give it time and be patient with your own development and work. Jewellery offers the opportunity for creative engagement and finding a niche, while creating personal and unique work.
As part of her undergraduate course she felt could express herself, come up with different designs, not worrying about necessarily economics, and she became passionate about larger scale work. University opened new doors for her, allowed her to progress her thinking, and put ideas into actual pieces. As she loved studying, she spent a lot of time in the library reading books and exploring new processes and materials in the studio. Starting a masters degree in Fine Arts broadened her thinking, despite earlier doubts about where her work sits, but it was natural progression from jewellery, silversmithing into sculpture and even installation. When asked what she wants to do next she said "have a break (laughs). I want to keep going, progress and look out for opportunities"
What would she recommend for people wanting to go into jewellery? Look at the opportunities available, courses at universities or apprenticeships in places such as Goldsmiths' Centre in London. Sign-up for taster sessions and find out if this is the right direction for you. Sometimes it is better to first do an apprenticeship and then study at University. Everybody is different. Do extensive research and speak to people about it, as this is a great career to get into.
I suppose the recipe for success is that you enjoy what you do and don't give up when it becomes challenging but be creative and open.
– Anna
Listen to Anna
Anna Lorenz oral history interview as part of the People's Archive