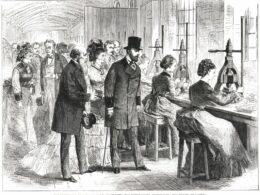 Image: The Prince and Princess of Wales at Gillott's Pen Manufactory, Birmingham in 1874. The Process of Slitting. 
Highlighting and celebrating women's achievements is essential, especially recognising the contribution they made in the 19th and 20th century to one of the world's biggest pen trade centres. The factories that produced the most pens, employing primarily women workers, were Victoria Works and Albert Works, now known as The Argent Centre. Victoria Works was Joseph Gillott's pen manufactory and was built in 1839 – 40. It produced steel pen nibs by a new pressing method and by 1843 it had surpassed production of 100 million items. Workers at this factory were actively contributing to the industrial development of Birmingham, and its international reputation for its mass production of pen nibs.
These factories created employment opportunities for women who operated the presses, creating the pens for the use of people all over the world. Unfortunately, at the time, women had fewer employment opportunities, so it was unusual for a business to have so many women employed in one occupation. Brian Jones, who was the Vice President and one of the founders of The Pen Museum said: "They could earn up to seven shillings a week, but there were rules of course, no talking, no singing, no wasting the metal, no being late or you lost money."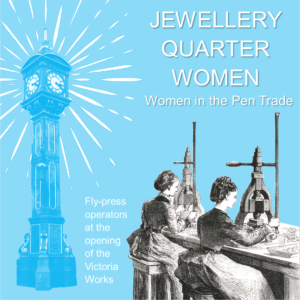 The legacy of Birmingham's pen trade relies on the work of the many female workers it employed. They enabled the many voices that were heard through writing, and the development of education and literacy throughout the world because of the availability of these cheap pens which enabled people to communicate more easily.