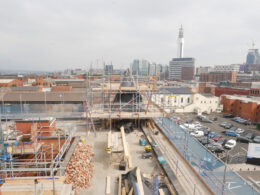 Argent Centre turrets under construction. Photo: Oliver Architecture
The Argent Centre is a significant building that currently houses many businesses and the Pen Museum. Its history goes back to 1863, when it was built for the pencil and gold pen manufacturer W.E. Wiley. Its legacy continues on today and it is an important commercial site. As such, over the course of this year it has been undergoing works to highlight its history- the exterior of the building is being repaired and restored, including elements such as brickwork, windows and the reinstatement of its previously removed turrets.
Oliver Architecture are the professionals that are planning and designing the restoration of the building, in conjunction with Midland Conservation who are the traditional building company carrying out the work. The most striking and exciting element of the restoration is the turrets, which bring a certain appeal and mark out the building as unique. The architects also state the significance that the turrets will bring back to the building, "the missing corner turret roofs have a serious adverse impact on the appreciation of the building. The new corner turret pyramidal roof proposals will have a major positive impact on the building's significance, reinstating lost elements which contributed to the original design."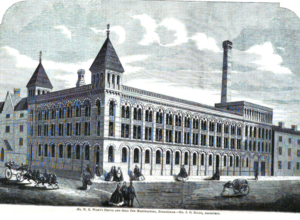 A rare depiction of the Argent Centre (or Albert Works as it was when built) with its original turrets before they were removed
The architects thoroughly researched the history to recreate them in the best way possible. Firstly, the formal elements such as height needed to be established in order to move on with the design itself.  They based their designs on a 19th century depiction, "we have carried out a full investigation of the history and the design of the turrets.  The Building News 1863 engraving, together with a measured survey of the elevations as existing, have been used to create a series of comparative heights for the pyramid, in order for the new design to be drawn."
The design process included further research into the history of the turrets and the possible materials used. Thus, the architects decided to include a special combination of materials which stay true to the original design and include with a modern and durable materials, "the design process has been based on engravings from the 19th century, which appear to have some artistic licence. The engraving appears to show bands of plain and fishscale tiles (or possible slates with a patterned lead hip), and this will be recreated in the new design, with a new stainless-steel finial at the apex, based on the 1863 image."
The drawing below is the current plan of the restoration created by Oliver Architecture. The turrets are clearly visible with all the design details and will complement the building beautifully.