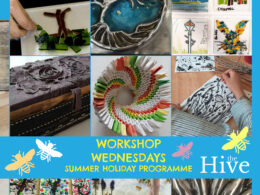 Every day during the summer holidays can be a creative day at The Hive!
You are welcome to pop in and delve into the craft resource box in our Heritage Room and see what you can make every day we are open during the holidays – there are also free heritage activities, trails and quizzes to help you and your children explore our exhibits together.
This summer we are also offering a programme of facilitated craft sessions aimed at a child age 5+ to enjoy with a parent or carer.
DATES
– Wednesday 7 August – Upcycling & decorating with Queenie
– Wednesday 14 August – Collagraph printing with Jennifer
– Wednesday 21 August – Glass fusing with Rachael
– Wednesday 28 August – Metal art exploration with Naomi
COST
CHILDREN MUST BE ACCOMPANIED BY A PARENT OR CARER.
1 ADULT ONLY FOR UP TO TWO CHILDREN.
1 workshop: £7.50 per person
2 workshops: £6.50 per person
3+ workshops: £5.50 per person
If you are booking more than one workshop using the offer above – please book tickets at full price (£7.50) online and we will refund the difference in cash when you attend your first workshop.
DETAILS & TO BOOK
There are limited spaces available, so we ask you to book your place in advance. You can book onto more than one session.