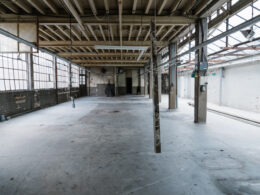 The Jointworks is a co-working space in the Jewellery Quarter, breathing new life into a historic industrial building. Originally a Victorian jewellery factory built in 1883, The Jointworks will open early next year as a contemporary space for people working in the creative sector.
Take this unique opportunity to visit the building and see behind the scenes before the building work starts. Learn about it its history as a jewellery and gold watch factory, and the exciting plans for its redevelopment. We also encourage you to you send us your photos from the tour, to become part of the pre works image archive!
This tour is a collaboration between The Jointworks and Jewellery Quarter Townscape Heritage Project.
Covid-19
We have limited the capacity of this group to ensure that social distancing can be maintained.
To ensure the safety of the others in the group, please follow these guidelines:
Do not attend if you have any symptoms of Covid-19 or are feeling unwell (your ticket will be refunded).
Stay 2 metres away from the other people in the group that you are not attending with.
If you are travelling on public transport to get to the event, please wear a face covering.
Wash your hands before and after the event.
Do not share equipment and tools with others in the group.