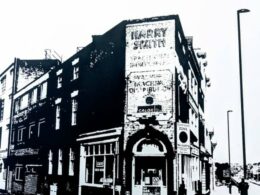 In 1854 a sign-painter named William Sutherland living in Birmingham publishes his first book The Grainer, Marbler, and Sign Writer's Assistant, etc. It's the only book ever written in Birmingham on sign-writing and led the way for him to publish one of the most popular sign-writing books ever published in (1889) The Art and Craft of Sign-writing.
It's a story that has been lost so join us for talk and ghost signs walk where we will help Birmingham reconnect with the story of William Sutherland and learn about the craft of sign-writing. Tracey Thorne will also talk about her current work to create a collection of Birmingham Ghost Signs using a silk screen print process to provide a lasting record of the few surviving signs.
The group will then go on a short-guided tour of surviving hand-painted ghost signs found in the Jewellery Quarter.  The walk will end in St Paul's Square.