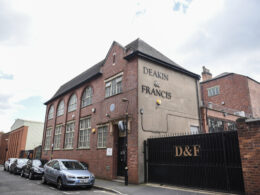 Starting at the Iron House Gallery and walking around the industrial heart of the Jewellery Quarter, explore the streets and buildings which feature in the exhibition. Book in advance.
Still: Stories from the Jewellery Quarter
Bringing together photographic portraits and oral histories from the heart of the historic Jewellery Quarter, the exhibition provides a unique insight into Birmingham's cultural and industrial history. The exhibition takes inspiration from the people who have spent their lives working in an area which covers just six streets – Frederick Street, Warstone Lane, Legge Lane, Albion Street, Vittoria Street and Regent Place.
The exhibition brings together work from documentary photographers Janine Wiedel, Andy Pilsbury and Inès Elsa Dalal as well as recordings of oral history interviews carried out over the last year by the JQ Townscape Heritage project.
Focusing on an area which is experiencing intense change, the exhibition provides the opportunity to consider and reflect on the lives and memories of some of those who have helped give the iconic Jewellery Quarter its unique character.
The exhibition is being held at Iron House Gallery from 26th October – 10th November 2019, 10am to 5pm (closed Sunday 27th October and Sunday 3rd November).
FREE to attend