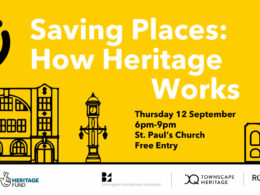 Ever wanted to know more about how the heritage industry works?
Join us for an evening of conversations and presentations; taking a look behind the scenes at range of projects to protect, restore, and to re-purpose our historic buildings and places across Birmingham . This will include the work at Moseley Rd Baths, various locations in the Jewellery Quarter, and the Roundhouse.
For the second half of the evening, we'll hear from a panel of experts, each working in different roles within local heritage organisations. We'll be discussing the challenges – and the solutions to those challenges – that are faced by people with a passion for saving places in the second city.
The panel session will also be opened up for audience questions. You can submit a question in advance, as part of the booking process!
The full line-up of speakers will be announced soon.
Presented in partnership by Roundhouse Birmingham and Jewellery Quarter Townscape Heritage.
Supported by Birmingham Architectural Association and Birmingham Heritage Week.