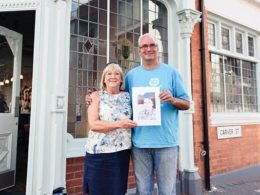 Join us for a guided tour and talk about the life and times of local author Kathleen Dayus. Discover the Jewellery Quarter as described in her memoirs of growing up on Camden Street in the early 1900s when the Pig & Tail was then known as George and the Dragon.
This tour combines archive photos of the area with historic information as well as excerpts from Kathleen Dayus' novels. Please bring weather-appropriate footwear and clothing.
Tickets are free but limited, please book ahead. The meeting point is outside the doors of The Pig & Tail pub.
This event is part of Birmingham Heritage Week and is brought to you by the Jewellery Quarter Townscape Heritage project, Jewellery Quarter Cemeteries project and Jewellery Quarter Business Improvement District.
Please note, this event is only for Jewellery Quarter residents. If you're not a resident but would like to attend, please book onto the tour on 16th September which is open to everyone!