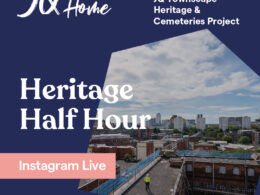 Join us for the latest updates from the Jewellery Quarter heritage projects with the opportunity to ask the team questions too. To enjoy this event, you'll need to join us on Instagram where we'll be going live at 4.30pm.
JQ Townscape Heritage – @jqth_project
JQ Cemeteries – @jqcemeteries 
JQ at Home
This event is part of a wider day of events celebrating the very best of the Jewellery Quarter. Take part in everything from tin embossing and sewing, to baking and cocktail making.
Join the Facebook event for regular updates https://www.facebook.com/events/2672273886427223/.
For more information on individual events, visit the event website: www.jewelleryquarter.net/jq-at-home