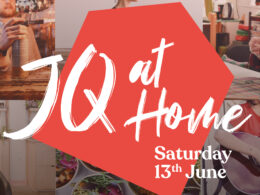 SpeedQuizzing host Stoo Pittaway will be hosting the JQ at Home Big Quiz.
On the date of the quiz (Saturday 13th June), details of how to log will be emailed out to everyone that purchases a ticket. In order to play you will need the following:
1. A device to watch the Zoom Meeting on (preferably a laptop). The meeting ID and password will be sent out in the email on the day.
2. An Android or Apple smart device to play the quiz on. Head to your app store to download the new "SpeedQuizzing Live" app. The PIN to log into will also be emailed out on the day of the quiz.
The Zoom Meeting will open up at 7.30pm to allow people to log on, then the quiz will commence at 8:00pm sharp.
It's just £5 to enter, with all proceeds going to charity.
Grab you tickets now to confirm your place.
JQ at Home
This event is part of a wider day of events celebrating the very best of the Jewellery Quarter. Take part in everything from tin embossing and sewing, to baking and cocktail making.
Join the Facebook event for regular updates https://www.facebook.com/events/2672273886427223/.
For more information on individual events, visit the event website: www.jewelleryquarter.net/jq-at-home