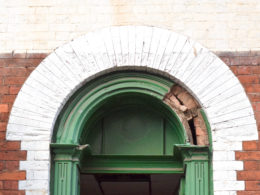 Join Matthew Bentley, Heritage Lincolnshire's Conservation Project Manager to find out how our ancestors constructed such a wonderful variety of buildings and left such a rich legacy of historic buildings. We will cover traditional ways that historic buildings were "put together" and how that affects their performance and understanding to this day. If you work with a historic building, live in a historic building, or just have a general interest, this talk will be of interest to you.
The talk will last approximately one hour with 30 minutes for questions afterwards.
JQ Townscape Heritage and Heritage Lincolnshire have teamed up to bring you a series of online workshops which explore local heritage and how to better understand the historic buildings around us.
The talk will take place on Zoom, and the link will be sent to attendees shortly before it starts.