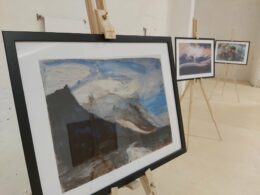 In celebration of John Ruskin's bicentenary year, The Hive Gallery will feature artworks by Ruskin alongside artists who were his mentors, friends and followers, exploring how art can be recognised as an indicator of euphoria as well as bleak despair. The exhibition will be set alongside work by students from Argent College part of the Ruskin Mill Trust, which will examine how they use craft to unlock emotion through their practical Skills Therapeutic Education programme. The students will be working with artist Hilary J Baker, to produce a series of mono-prints exploring self-portraiture and their hopes, fears and dreams for the future.
Hilary J Baker
Hilary's work is collected and commissioned worldwide, including the National Portrait Gallery in London. She uses etching, paintings, ceramics and sculptures to articulate how all bodies leave visible traces of their interrelation within an environment.
As a companion of The Guild of St George, Hilary uses the educational visionary methods of John Ruskin as a basis for teaching together with Goethe's ideas of the Architype.