The Flaghouse
Forming part of the Grade II listed Victoria Works.  The Victoria Works was one of the biggest purpose-built factories and covered an area between Frederick Street, Graham Street and Vittoria Street. The Grade II listed building was constructed from 1838-40. Joseph Gillot had worked in the steel trade in Sheffield and came to work in Birmingham's steel toy trade in the 1820s. The Victoria Works was built for the mass production of Gillot's steel pen nibs using the machine-made process he developed. By the mid-1840s over a million pens were produced there each year, mostly by women operating hand presses. The building complex has now been converted to flats, workshops, studios, and offices.
A terracotta relief of Queen Victoria, added in 1887, was set into a semi-circular pediment decorated with carved palm fronds. This was to commemorate the Queen's golden jubilee.
Restoration Project
A small grant was given to undertake urgent repair works to the area surrounding the terracota relief of Queen Victoria.  There was significant damage and erosion occurring which had necessitated safety netting to be put in place to safeguard the public from falling debris.  The JQTH funded grant works to enable a specialist conservation contractor to undertake the necessary repairs to safeguard this important historic detail.  Lime mortar was used to repair cracked joints in the stonework, the protective flashing on the roof of the pediment was replaced, and loose pieces of stone removed.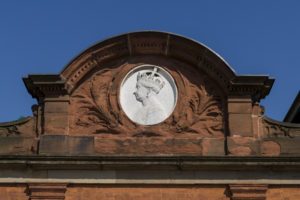 Learn more about the history of the building