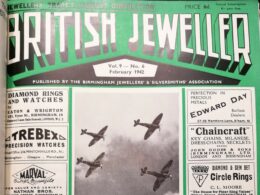 For the manufacturing jewellers of the Jewellery Quarter, the years of the Second World War brought huge change to daily life. From gold to steel and from unique jewels to making millions of cap badges, gas mask components and pocket compasses, the jewellers adapted their skills to work for the Armed Forces and help the war effort. All the while, small levels of jewellery work continued and firms tirelessly supported the Jewellery Quarter community to ensure its post-war survival.
In this talk, we'll focus on the jewellers' day-to-day experiences of and reflections on their war work and life in the Jewellery Quarter, specifically the JQTH area which lies at the heart of the area. Machinery, oral histories, trade journals and archive records help us build an idea of this nationwide protection and redeployment of skills. We'll compare jewellery designs to engineering blueprints used by jewellers in the war and draw on particular firms in the Jewellery Quarter to better understand their huge input.
Speaker: Georgina Izzard
Georgina is a design historian and jewellery specialist based at the Victoria & Albert Museum and the Royal College of Art. She researches the work of Birmingham's manufacturing jewellers in the 1940s and 1950s as a PhD project funded by the Arts & Humanities Research Council (AHRC), via the London Arts & Humanities Partnership (LAHP). She is also a gemmologist (FGA) and works in the British jewellery industry.
The talk will take place on Zoom. Those who have booked will receive a link and a password to join, on the day of the talk.