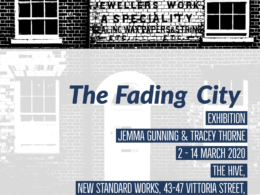 Join the artists Jemma Gunning and Tracey Thorne for an interactive tour of the exhibition and hear more about their work. The session will include sharing of stories of from the past life inside two of the buildings featured in the exhibition; the artists will be joined by Robert Houston, former director at Jones and Palmer whose family acquired the printers and stationery business in the 1950s.
The Fading City exhibition opens on 2nd March until 14 March at The Hive gallery, in the Jewellery Quarter. Entrance is free, opening times on weekdays is 8am – 3.30pm and 10am – 4pm at weekends. For further information visit The Hive website.
Further information:
The Fading City is inspired by the textures and typography of buildings that surround us, and calls on us to immerse ourselves in a world that might otherwise slip by. Both artists have produced new works for the exhibition using different printmaking techniques to draw out the character and souls of the buildings.
Jemma Gunning is a printmaker based in Bristol and has produced new work for the exhibition commissioned by the Jewellery Quarter Townscape Heritage project. For her commission Jemma visited two derelict buildings, Alabaster and Wilson and Unity Works to record their transient states, capturing our fading heritage. The use of intaglio and mono-printing processes resonate with the decaying structures she has recorded, preserving memories and documenting these extraordinary spaces.
Tracey Thorne is based in Birmingham and uses photography to explore the ephemeral painted walls found on the streets. The exhibition showcases ten screen-prints by Tracey Thorne that explore Birmingham's disappearing faded advertising signs sometimes called 'ghost signs' found on buildings in Digbeth and around the Jewellery Quarter.
For more information follow on facebook @thefadingcity