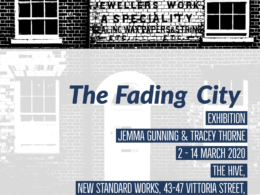 A joint exhibition of new work by Jemma Gunning and Tracey Thorne opens on the 2 March 2020 at The Hive Gallery, The New Standard Works, in the Jewellery Quarter, Birmingham.
The Fading City is inspired by the textures and typography of buildings that surround us, and calls on us to immerse ourselves in a world that might otherwise slip by. Both artists have produced new works for the exhibition using different printmaking techniques to draw out the character and souls of the buildings.
Jemma Gunning is a printmaker based in Bristol and has produced new work for the exhibition commissioned by the Jewellery Quarter Townscape Heritage project. Her practice documents abandoned sites that often contain social and historic significance that are in danger of being lost. Just one or two historic buildings can serve to define a community and for her commission Jemma will be responding to two abandoned sites, Alabaster and Wilson and Unity Works. Using monotypes and etchings she will be exploring the buildings derelict states, freezing moments in time and recording our fading heritage.
Tracey Thorne is based in Birmingham and uses photography to explore the ephemeral painted walls found on the streets. The new work created for the exhibition is based on her work to document old hand-painted signs found in Birmingham known as 'ghost signs' in a project supported by Arts Council England. The exhibition will include a collection of limited edition screenprints that focuses on historic signs found on building's in Digbeth and the Jewellery Quarter.