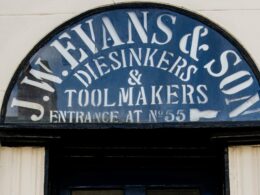 A city reveals its secrets to those on foot. Join us for an urban ramble through one of Birmingham's most historic neighbourhoods in search of signs, lettering and numbers to see what they reveal about this unique part of the city.
The walk takes you on a slow ramble through some of the streets that make up the main centre of the Jewellery Quarter. Perfect for those interested in local history, street photography and typography or for those that just fancy an urban stroll.
The walk will be led by Tracey Thorne, who also runs ghost signs and street art walks in Birmingham.