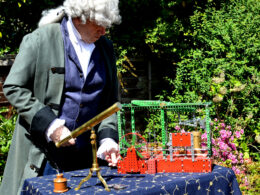 Explore science, inventions and buildings on the site where James Watt lived over 200 years ago!
Meet a James Watt reenactor and hear some terrific tales from the past. Performances at 12.30pm and 2.30pm
Explore the history of engines from early steam power to internal combustion with the Thinktank team
Be an inventor like James Watt, using mini LEGO kits
Find out about the Jewellery Quarter's past in our dressing up and photo corner
Make building themed badges, inspired by the amazing architecture of the JQ!
Drop in between 11am – 4pm. Part of the JQ Festival