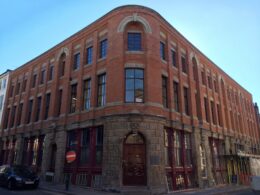 Dates: 10 Aug, 14 Sep, 12 Oct, 09 Nov & 14 Dec
Tours will take place at 11.30am and 1.30pm.
Explore a Grade II listed factory, built 1879-80, in Birmingham's historic Jewellery Quarter.  Discover the building's heritage stories through our exhibitions and art installations. On a guided tour (30 mins) you will see how the Ruskin Mill Land Trust has transformed a derelict jewellery manufactory into a vibrant mixed-use development centred around Argent College, a specialist education provider for young people aged 16-25 run by Ruskin Mill Trust. This tour takes you behind the scenes and across the building's four floors. Lift access to all floors, including to the unique rooftop micro-farm.
There are also free family crafts happening in the heritage room all day.
Our organic café will be open for drinks & cake.
You can book in advance via our website, but this isn't usually necessary; feel free to turn up on the day.
Free entry to exhibitions and gallery. 'Pay as you feel' donations welcome after the tour. All money raised goes towards the building's upkeep and activity programme.