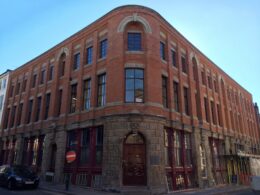 During Birmingham Heritage Week and for the national Heritage Open Days scheme The Hive are offering free 'behind the scenes' guided tours of our fascinating grade II listed building in the Industrial Middle, built 1879-80.
Discover the New Standard Works' heritage stories on a guided tour of our four storey building. You will see how the Ruskin Mill Land Trust has transformed a derelict jewellery manufactory into a vibrant mixed-use development centred around Argent College, a specialist education provider for young people aged 16-25 run by Ruskin Mill Trust. This tour takes you behind the scenes and across the building's four floors, including into the 'walk in' safe in the derelict basement and to the unique rooftop micro-farm. You'll be able to learn more about the stories of the former occupants in our heritage exhibitions and art installations.
For families we have a range of trails and activities to help younger visitors explore our exhibitions, and the craft resource box is open for everyone to be creative and make something during their time with us.
We are running tours at the following times:
Sunday 22 September. Open 11am-3.30pm. Tours at 11.15am, 12.30pm, 2pm, and 3.30pm
Part of Birmingham Heritage Week.