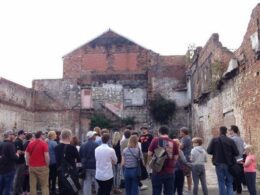 A music-themed walking tour of the Jewellery Quarter, led by Jez Collins, founder of the Birmingham Music Archive – with over 20 years of experience as a social and cultural entrepreneur in the creative, and particularly music, industries in Birmingham.
This two-hour walk will reveal some of the hidden stories, spaces and places of Birmingham's music history and heritage in the Jewellery Quarter.
Part of Birmingham Heritage Week.